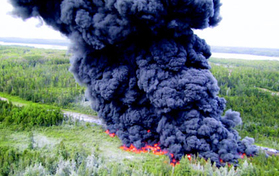 July 2002: Enbridge 34-inch diameter steel pipeline ruptured in a marsh west of Cohasset, Minnesota. To prevent 6,000 barrels (252,000 gallons) of crude oil from reaching the Mississippi River, the company set the oil on fire. The plume of smoke extended one mile high. The U.S. National Transportation Safety Board blamed the rupture on "inadequate loading of the pipe for transportation."
---
potential impacts to hubbard county water resources
The following information
and links
show the potential impacts of Enbridge's Line 3 route to our county. The
Fishhook River Chain of Lakes
map shows where a pipeline leak in Hay Creek poses a direct, imminent and potentially irreversible level of damage to the water quality in the chain. Other lakes in Hubbard County could be affected as well. The following article by Nate Bowe of the Detroit Lakes Newspapers, reprinted in Wed 10/8/14 Park Rapids Enterprise and used with permission -
Former officials blast Sandpiper (& Line 3) as worst possible route
explains the
aquifer
and
groundwater
danger of contamination for the city water supply of Park Rapids, local industries, irrigated agricultural crops, the Straight River trout stream, and potentially lakes like
Long and Hines
. Merritt's aerial chart depicts the
wells at risk
as discussed in the article. Lakes close to the Enbridge-proposed
route alternatives
include Upper Twin Lake, Duck, and Palmer in Hubbard County.
All
county property owners would be affected by a required upward adjustment to the tax rate to offset a decline in value of properties directly impacted by a spill.
See excerpt
from a letter published in the Park Rapids Enterprise by a member of FOH which analyses the potential county-wide economic impacts of a spill.
Click here
to show a graphic of one of the FOH-sponsored Routes (SA-04) compared to Enbridge's proposed route across varying water, aquifer, wetlands and wild rice ares.